Father Peter Lah S.J. is Associate Professor of the Faculty of Social Sciences where, since 2011, he has been teaching courses in media studies and journalism. From 2008 until 2011 he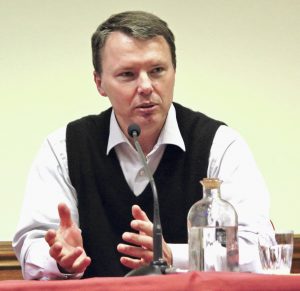 held teaching and administrative positions in the Fakulteta za medije and the Fakulteta za uporabne družbene študije in Slovenia. From 2004 until 2007 he was  assistant professor at Saint Louis University. In 2004 he completed a Doctorate in the Science of Communication at Northwestern University (USA). In 1995 he obtained a degree in Theology at Philosophisch-Theologische Hochschule Sankt Georgen (Germany).
His research areas include ethics of the media and their social effects. Previously, he was, on two occasions, member of a commission on the pluralism of the media for the Ministry of Culture in Slovenia. He worked briefly for RTV Slovenija (public TV). In 1995 he was co-founder of a Catholic electronic communication network.
The activity of Father Lah also includes participation at conferences, publications and occasional contributions for the various media in Slovenia, Catholic and non-Catholic.
Students of the Faculty interviewed Father Peter Lah about his life and work in Rome:
What is the importance of media on a social level?
Media have a decisive importance in society because they have the capacity to influence the minds and values of people. For this reason, institutions cannot live without a means of communication. Their importance is defined also by the fact that they increasingly shape the social and relational environment in which we live. This is why we must educate people on how to access these means and how to use them in a purposeful manner. Our mission then is to protect the social environment and to participate in its development with the aim of building the kingdom of God, also using the means of social communication.
What is the motivation that pushes you to dedicate yourself to work in the field of media?
The principle motivation for me is pastoral. In my youth I was always interested in the media as a dimension of life in which God wishes to be present. The media are useful for social, political, religious, economic, and cultural life, but at the same time important for the development and growth of Christian community. Every aspect of our life, incluidng the media, needs to be evangelized, imbued with the values of the Gospel.
You have formed and continue to form students. What are your expectations for their active lives?
The Jesuits always follow the ideal of forming and educating for the eloquentia perfecta, which is the faculty of transmitting the acquired knowledge in a beautiful and effective way. For it is not enough just to study and personally possess this knowledge, we must also pass it on to others. For this reason, instead of remaining passive, I expect that students will be creative producers of valuable content in the field of communication.
What are your interests outside the academic world?
I am pastorally active at a sanctuary in eastern Alps called Monte Santo di Lussari. It is located on the border between Slovenia, Italy and Austria. It represents a place of encounter and reconciliation between the three countries. Besides this, I like silent walks in the mountains.